Article regarding Composite Parts' Drawings in JEC Composite Magazine
2021-07-03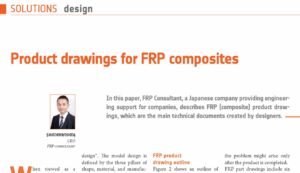 Shuichiro Yoshida, CEO of FRP Consultant Corporation, contributed title of Product drawings for FRP Composites to JEC Composites Magazine #140.
(The image above is linked to JEC Composite Magazine webpage.)
Summary of the article
Product drawings of composites is the highest priority engineering document. But there does not seem to exist drawing standard all over the world. We try to summarize the key points for the drawings including;
– Outline of drawings
– Relationship with process and material specifications
– Basic engineering contents need to be included in drawings
– How to prepare requirement of visual inspection, tolerance, layup configuration (ply table), and Non-destructure inspection
Manufacturing technology like machining and molding would be focused in many cases.
But products, made by composites, will not be manufactured without drawings, and it should be the "starting point" for products.
This kind of basic knowledge would be very important wide range of suppliers like design, materials, machining, molding, and inspection.