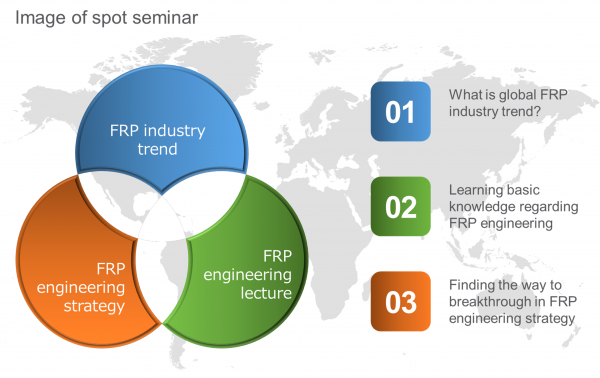 It is possible to open the spot seminar for your company. This spot seminar can be customized in accordance with customer's request, and attendees are able to make open discussion by the merit of "in-house" lecture. Please feel free to contact us via the inquiry page and let us know you are interested in our spot seminar program.
Steps to conduct spot seminar and past records of our customers are shown below.
The spot seminar program will be perfectly matched for the requests like;
– Would like to understand the latest global FRP industry trend
– Need to figure out the next step to achieve customer's engineering strategy
We have received very positive feedback from customers because of very active discussion during the seminar. The lecturer is trying to discuss with attendees to let them understand the detail points. It is also possible to execute NDA in accordance with customer's requests, especially the discussion contents will be sensitive.
FRP industry trend

– Would like to let employees understand the industry from the global view point
– Would like to know the application examples using composite materials
Above are typical requests from customers. In the program, we will try to let customers know the industry trend based on the on-going experience in global area.
FRP engineering lecture

– Would like to learn basic knowledge regarding composite technologies
As you can image, the basic knowledge regarding composites engineering is quite wide. When we are willing to talk about materials only, composites like FRP contain reinforcing fibers and matrix resins. The former contains the knowledge like base material manufacture (knitting, weaving, braiding, NCF etc.) and their design (areal weight, weaving/knitting density etc.). The latter includes organic / polymer chemistry skills. As manufacturing view point, there are different choices like autoclaves, RTM, press molding, and infusion etc. and machining, laser, and water jet will be representative processing to make shapes. We also need to understand dimensional and non-destructive inspection technologies from quality assurance view point. Material testing / evaluation / analysis, and its transferring to CAE need to be discussed as composite design skills.
FRP engineering strategy

– Need advice about development strategy direction
– What is the necessary to spready our products for lager sales from engineering view point?
It is not special that companies with long history in FRP industries proceed unmatched direction of market needs. We can supply proper advices like; composite parts design, material research and development, production, quality assurance, and component test ect., based on end-user experience. We will try to propose the proper engineering strategy. The end-user view point enables you to find out what you need to focus to think about the strategy. We also give you concrete advise including action items with step-by-step plan.
Past records of our customers

Case 1: Request to understand FRP industries and engineering strategy direction advice
a. Required properties and evaluation method for composite design (especially automotive application): 2 hours
b. Latest FRP industry trend: 1 hour

Attendees: 30
Customers:Company A ( representative material manufacturer)
Case 2: Basic advice prior to entry FRP industries
a. Lecturer 1 hour
– CFRP manufacture summary
– Global FRP industry trend
– CFRP difference between thermosetting and thermoplastic matrix resin systems
– Latest status of CFRTP in FRP industries
– Points to remember prior to entering FRP industries
b. Discussions for Company B entry to FRP industries and Q&A: 2 hours

Attendees: 30
Customers:Company B (Japanese trading company)
Step to spot seminar

Step 1 Contact us via this page
Step 2 Designing spot seminar plan after discussion with customer vial meeting and / or e-mails
Step 3 Submitting spot seminar plan draft to customer
Step 4 Submitting quotation to customer after spot seminar plan agreement
Step 5 Conducting spot seminar after quotation agreement
Step 6 Issuing invoice and proceeding payment process