Article regarding Material specs in JEC Composite Magazine
2019-10-29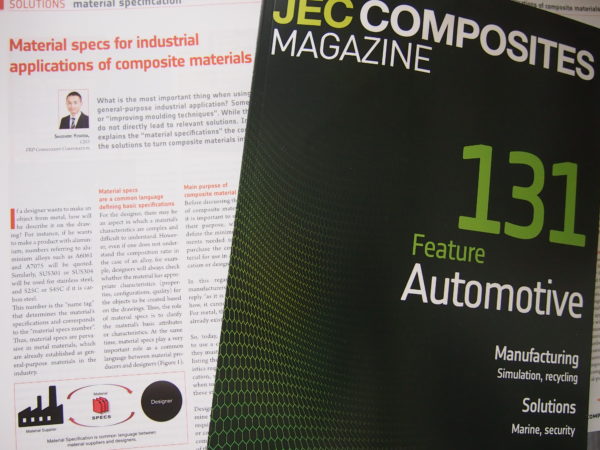 The title of " Material specs for industrial applications of composite materials "? written by FRP Consultant Corporation CEO, Shuichiro Yoshida, was published in JEC Composite Magazine #131.
Summary of the article
This article mentions like;
– Why composite material specs are necessary in industry?
– What is the contents of material spec?
– How to design material spec contents and refer it in drawing
– Difference between Engineering Requirement and Material Spec
Material specs are very important from not only engineering but also business view point.
As engineering stand point, material specs are common language between material suppliers and its customers in order to define the engineering requirement regarding composite materials.
As business stand point, material specs will also enable material suppliers to quote their material product's cost, based on the engineering requirement.
But discussion related to material specs is not enough in all over the world.
There is very few public material specs about composites, so all composite material users should prepare the using specs.
We wish the article would be the good start point to think about the necessity and role of composite material specs.
Your contact regarding the article is here.